One of the dozen men was a tax collector, and several others were fishermen who plied their trade on the waters of Galilee. When they were called to serve, they devoted themselves to being witnesses to the world of the one who called them.
They were the twelve leading disciples or "apostles" chosen by Jesus Christ nearly two millennia ago.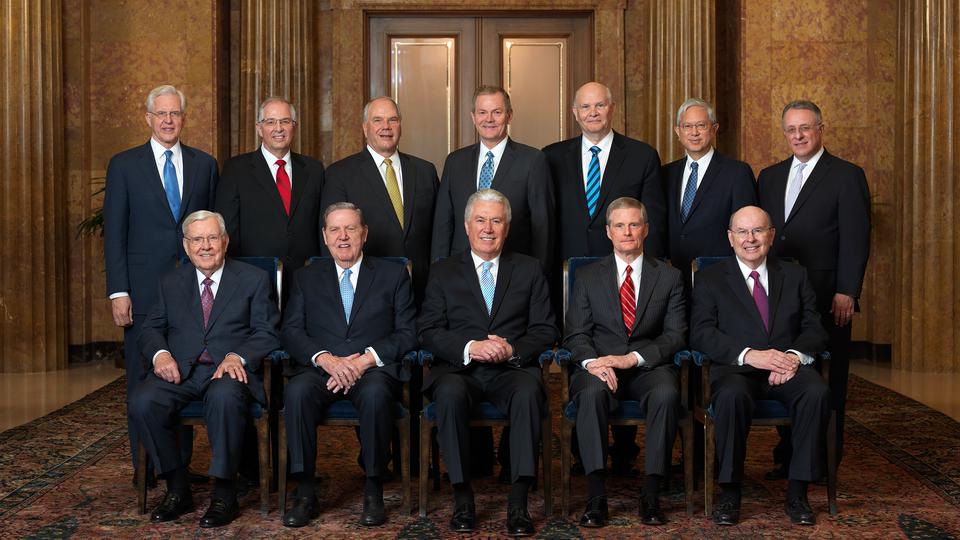 The men who hold that same title today come from a variety of fields, including law, business, medicine, academia and the judiciary. When they were called to serve, they too put aside their respective professions to serve full-time as witnesses of Christ.
They are the members of the Quorum of the Twelve Apostles of The Church of Jesus Christ of Latter-day Saints.
The modern-day Quorum of the Twelve Apostles was organized in 1835 and is an example of the literal restoration to the earth of the church established by Jesus Christ.
The Quorum of the Twelve Apostles is the second-highest presiding body in the government of the Church. Its members serve under the direction of the First Presidency, a governing unit of three men — the president and two counselors.
In addition to their primary responsibility to be special witnesses of the name of Christ throughout the world, the apostles have heavy administrative responsibilities as they oversee the orderly progress and development of the global Church.
Just as their counterparts in ancient times were sent throughout the world, the apostles today travel the world to strengthen and encourage Church members, to organize new congregations and to conduct the business of the Church. Sometimes this means meeting with national leaders to negotiate permission for the Church to be established in yet another country.