On 19th March, Young Women and Relief Society sisters from across Ireland gathered at the Dublin Stake Centre for the Relief Society Day of Service. They were joined by special guests Sisters Aburto, second counsellor of the General Relief Society Presidency and Sister Craig, first counsellor in the General Young Women Presidency, as they visited with women of the church in Western Europe. Sister De Marco, International Area Organisation Adviser for Europe, also attended on the final leg of their visit.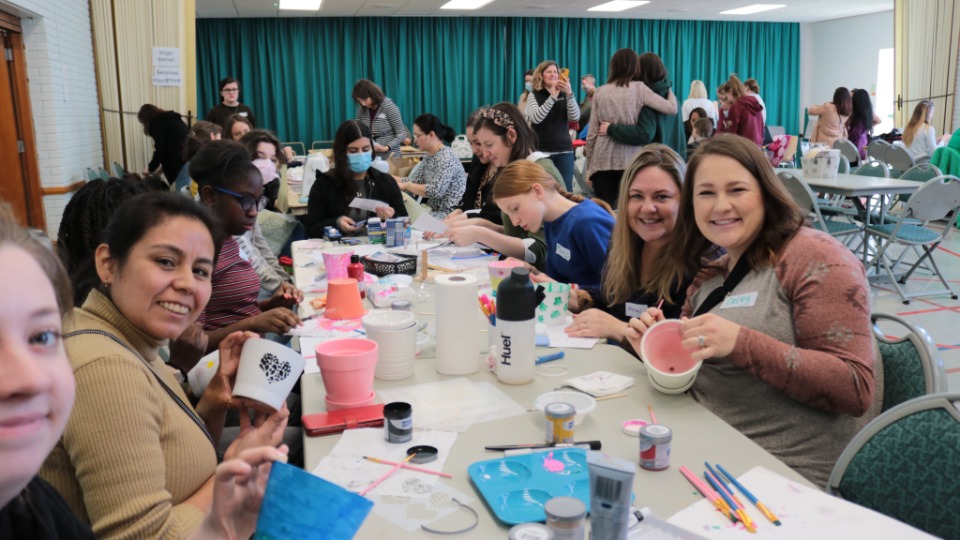 The theme for the day was ''Serving Women in every Season'' with projects that serve girls and women in all seasons of their lives. "We have chosen projects that were personal and local to each of the branches and wards in the stake and district to help our sisters feel more a part of our Day of Service. Plus, we hope to inspire and motivate them to go out and find causes to help and get involved with", said Veronica Holton, Dublin Stake Relief Society President.
14-year-old, Rosa Mc Manus, loves dogs. She is constantly collecting items from friends and family to donate to the Dogs Trust. She arranged for sisters to bring old t-shirts to make into dog chew toys.
Adopted in 2010 from far east Russia, Rosa was born with heart problems and has had to undergo several major heart surgeries. That has not stopped her desire to give to others. Her mum Gabrielle said, "Rosa has such a big heart, for someone that has had heart problems, her heart is just so huge!"
Rosa has had physical and emotional challenges in her life, but it does not stop her from serving where her heart takes her. Rosa loves what the Dogs Trust stands for. She said, "I like dogs, and I like that the Dogs Trust can help dogs that haven't been treated well and that they can get them into new homes, and they can be safe with new families that will love them."
Tus Nua, which translates to 'a new beginning', is a community-based response to a drug problem in the Southwest Clondalkin area in Dublin. Sisters spent time decorating plant pots and plant sticks with positive quotes and messages. Later, the local sisters will plant flowers in the pots and donate them to the parents and grandparents of those struggling with addictions.
Patricia Mooney Relief Society President in Clondalkin, said "We want to let the mums and grandmothers know that we love and support them and that they are not forgotten. They deal with a lot of stress and worry about their children and grandchildren, Garda (Police) Drugs Task Force raiding their homes and turning it upside down or, having family members threatened because their child owes money. That can leave them distraught. It's nice to remember the families and show them that we care".
6 years ago, Louise Murtagh, a local Relief Society President found herself 'stuck' after her mother passed away and wanted to find something to help her move forward. She came across an ad for a soup kitchen providing hot meals in Dublin city centre on a Sunday evening. She brought along a pot of chilli and was then asked if she wanted to serve it. "That was it, I was hooked!" she said. Chilli has become her signature dish.
Since then, every second Sunday evening between 7 and 9 pm, Louise can be found with a group of other volunteers, at a fold-out table in Dublin city centre feeding up to 200 men, women, and children providing hot drinks, snacks, and a friendly face. The service helps people from all walks of life, young and old, who find themselves in need.  
Louise encouraged the sisters to bring along donations of clothing and new items of underwear, pot noodles, fruit, cups-a-soup, treats, crackers and other items. They gathered and boxed them ready to be distributed the following day in the city centre. Louise's mantra is something that Mother Theresa said, "We can do no great things, only small things with great love".
Many babies in Dublin Stake were born at the Rotunda Hospital in Dublin city. Joan, a sister from Clondalkin Ward, works all-year-round making items to donate to the hospital. Items such as white angel baby gowns, hats, blankets, and cardigans as well as crochet octopus creatures with tentacles for premature babies to grip onto and much more. She said, "It is so easy to just work away on blankets or hats at homes and they are made in no time at all and are really appreciated".
Sisters who could knit or crochet were invited to make any blankets and cardigans and bring them on the day to donate. Sisters who wanted to learn were invited to join classes in knitting and crocheting from some of the talented sisters in the stake so that they too could develop their talents to help others.
All the Branches and Wards have been involved with local organisations that help and support women and children who are victims of domestic abuse. These organisations provide safe spaces for women and their children, but they don't always have a new pair of pyjamas to offer a woman who comes in for help with just the clothes on her back.
Sisters were asked to donate a new pair of women's pyjamas, if possible, as well as hygiene products, baby wipes and nappies. A group of sisters set about making drawstring bags to put the pyjamas in, along with a pair of fluffy bed socks and a luxury treat item, like a facemask or a bottle of nail polish.
Sisters also supported Oakwood Lodge Nursing Home, which cares for elderly residents with a variety of needs. Those who suffer with dementia sometimes have special padded mitts attached to their hands as they can become violent toward those who care for them. The sisters busily attached beads, ribbons, buttons, and pom-poms to the pre-made mitts that can help alleviate stress in dementia sufferers. The finished mitts were then donated.
Additional projects included learning how to, very simply, share the gospel online via social media.  The sister missionaries led this activity, also teaching them how to make short videos to be shared on missionary social media pages.
Local service missionaries demonstrated how to contribute to the 'BillionGraves' cemetery database and volunteer with FamilySearch.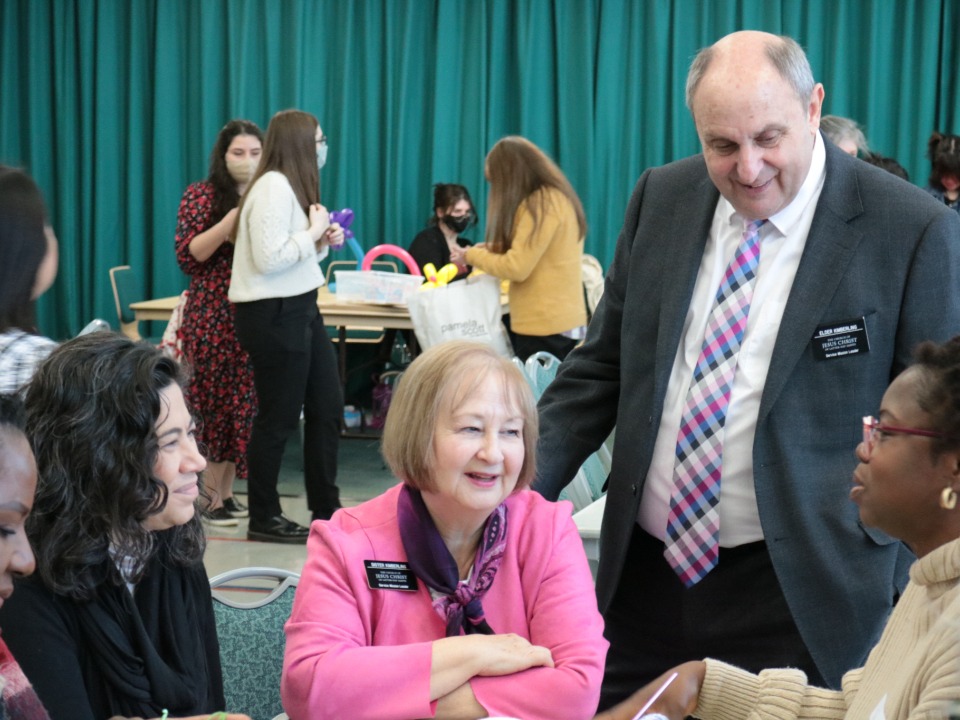 With the conflict in Ukraine, many refugees have been offered a place in Ireland. Sisters provided donations of clothing, toiletries, feminine hygiene products, shoes, colouring books, and baby products which were sorted and boxed up ready for refugee families arriving from Ukraine in the coming weeks.
The church building was a hive of activity in almost every room and corridor.  Sister Aburto and Sister Craig swept in and out of activities, meeting and greeting sisters individually, and chatting as they served alongside their sisters.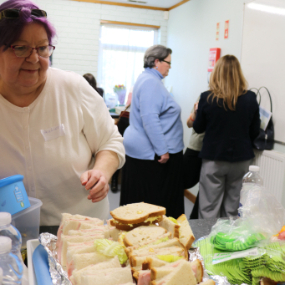 By the day's end, enough packs and donations had been gathered to touch the lives of hundreds of families in the local community. President Holton said, "I hope all the sisters enjoyed being together and serving today as much as I did. I'm hoping they will be motivated to continue to serve from their own homes and empowered to act on any inspiration they receive. So much good can be done if people will 'give it a go.'"