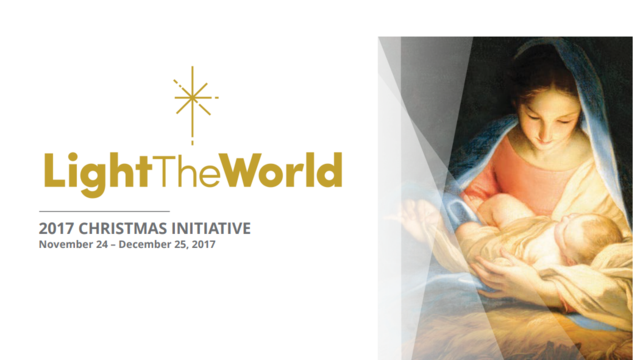 Members of The Church of Jesus Christ of Latter-day Saints (Mormons) and their friends around the world are encouraging the public to participate in service opportunities during the Christmas season to celebrate the life of Jesus Christ. The "Light the World" Christmas initiative will reach worldwide audiences beginning Friday, November 24, 2017, and will run through Christmas Day, December 25. 
The "Light the World" Christmas initiative, now in its second year, focuses on celebrating and sharing the light of Jesus Christ, the "light of the world" (John 8:12). The Saviour declared, "Ye are the light of the world" (Matthew 5:14). 
"As we follow the example of the Saviour and live as He lived and as He taught, that light will burn within us and will light the way for others," said Church President Thomas S. Monson in a general conference address in October 2015.  
Media Assets
Sharable online content is available at mormon.org, including a new inspirational video in 33 languages. A service advent calendar, "In 25 Ways, Over 25 Days," to encourage the public to follow Christ's teachings during the Christmas season. Each day, mormon.org will feature teachings of the Savior with a brief video and service ideas. The website is available in English, Spanish and Portuguese. A web landing page also provides links to resources in 29 languages.
"By visiting mormon.org daily, those who wish to get involved with the initiative can learn new ways to participate," explained Elder Nielson. 
A playable/downloadable version of the main video is also available on the Church's Gospel Library app.
The shareable content is being posted on the social media pages of mormon.org, such as Facebook, Twitter, Google+, Pinterest and Instagram. Those on social media are encouraged to share their experiences by using the hashtag #LIGHTtheWORLD.
In addition, "Light the World" displays can be found at visitors' centers in cities around the world, including Mexico City and Paris. Billboards can be seen in New York City's Times Square, Salt Lake City, Los Angeles and Mexico City.
Posters and pass-along cards are also available online for members and missionaries to encourage others to participate in the campaign.
Initiative History
The Church has sponsored online campaigns during Christmas and Easter seasons for the past several years. Christmas campaigns started in 2014, with the "He is the Gift" initiative. It was followed by the "A Saviour is Born" campaign, in 2015. At Easter time, the campaigns were titled "Because of Him", "Because He Lives", "Follow Him" and "Prince of Peace".  All these campaigns reached millions of viewers around the world
For more information, visit mormon.org.